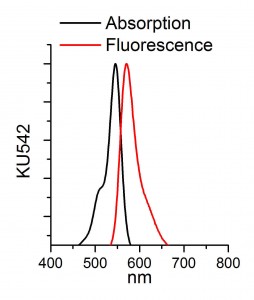 All KU dyes are available as 1 mg and 5 mg dry or in DMSO. Please quote the product number listed below when ordering. Back to catalogue.
KU542 is a very bright alternative to other dyes.
KU542 is ideal as a substitute for less robust or less bright dyes with a similar excitation profile such s Rhodamine B.
---
Photophysical properties in methanol

λ(abs)

542

nm

ε(max)

134,600

M -1cm-1

λ(fl)

565

nm

Φ(fl)

>65

%

τ(fl)

~4.1

ns

CF260 = ε(260)/ε(max)

0.36

CF280 = ε(280)/ε(max)

0.15
---
Available derivatives
| | | | | |
| --- | --- | --- | --- | --- |
| Dye | Derivative | Quantity | Product number | Price excl. VAT |
| KU542 | Free Dye | 1 mg | 5 mg | KU542-1 | 250€ | 1 mg |
| KU542 | Acid | enquire | KU542-2 | 250€ | 1 mg |
| KU542 | C18 | enquire | KU542-4 | 250€ | 1 mg |
| KU542 | PEG | enquire | KU542-5 | 250€ | 1 mg |
| KU542 | NHS-Ester | enquire | KU542-6 | 250€ | 1 mg |
| KU542 | Haloacetate | enquire | KU542-7 | 250€ | 1 mg |
| KU542 | Maleimide | enquire | KU542-8 | 250€ | 1 mg |
| KU542 | Isocyanide | enquire | KU542-9 | 250€ | 1 mg |