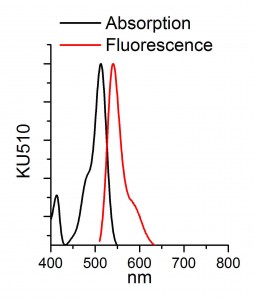 All KU dyes are available as 1 mg and 5 mg dry or in DMSO. Please quote the product number listed below when ordering. Back to catalogue.
KU510 is robust dye where the free dye can be used to selectively stain RNA/DNA based structures as the emission wavelength change upon association to these.
KU510 is ideal as a substitute for less robust or less bright dyes with a similar excitation profile.
---
Photophysical properties in methanol

λ(abs)

510

nm

ε(max)

92,100

M -1cm-1

λ(fl)

536

nm

Φ(fl)

>35

%

τ(fl)

~1.9

ns

CF260 = ε(260)/ε(max)

0.49

CF280 = ε(280)/ε(max)

0.14
---
Available derivatives
| | | | | |
| --- | --- | --- | --- | --- |
| Dye | Derivative | Quantity | Product number | Price excl. VAT |
| KU510 | Free Dye | 1 mg | 5 mg | KU510-1 | 250€ | 1 mg |
| KU510 | Acid | enquire | KU510-2 | 250€ | 1 mg |
| KU510 | C18 | enquire | KU510-4 | 250€ | 1 mg |
| KU510 | PEG | enquire | KU510-5 | 250€ | 1 mg |
| KU510 | NHS-Ester | enquire | KU510-6 | 250€ | 1 mg |
| KU510 | Haloacetate | enquire | KU510-7 | 250€ | 1 mg |
| KU510 | Maleimide | enquire | KU510-8 | 250€ | 1 mg |
| KU510 | Isocyanide | enquire | KU510-9 | 250€ | 1 mg |