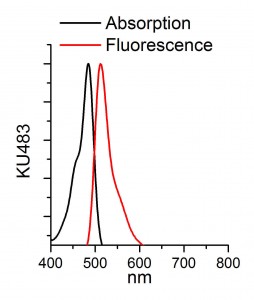 All KU dyes are available as 1 mg and 5 mg dry or in DMSO. Please quote the product number listed below when ordering. Back to catalogue.
KU483 is one of the few high brightness dye in blue. It is available in a range of reactive forms. The nature of the dye and the rather rigid linkers allows it to be used in polarisation based experiments.
KU483 is ideal as a substitute for fluorescein and can be used as an alternative to all '488'-dyes.
---
Photophysical properties in methanol

λ(abs)

483

nm

ε(max)

60,300

M -1cm-1

λ(fl)

509

nm

Φ(fl)

>38

%

τ(fl)

~2.2

ns

CF260 = ε(260)/ε(max)

1.12

CF280 = ε(280)/ε(max)

0.49
---
Available derivatives
| | | | | |
| --- | --- | --- | --- | --- |
| Dye | Derivative | Quantity | Product number | Price excl. VAT |
| KU483 | Free Dye | 1 mg | 5 mg | KU483-1 | 250€ | 1 mg |
| KU483 | Acid | enquire | KU483-2 | 250€ | 1 mg |
| KU483 | C18 | enquire | KU483-4 | 250€ | 1 mg |
| KU483 | PEG | enquire | KU483-5 | 250€ | 1 mg |
| KU483 | NHS-Ester | enquire | KU483-6 | 250€ | 1 mg |
| KU483 | Haloacetate | enquire | KU483-7 | 250€ | 1 mg |
| KU483 | Maleimide | enquire | KU483-8 | 250€ | 1 mg |
| KU483 | Isocyanide | enquire | KU483-9 | 250€ | 1 mg |
| KU483-lipofilic | Free Dye | 1 mg | KU483-L-1 | 250€ | 1 mg |
| KU483-rigid | Free Dye | 1 mg | KU483-R-1 | 250€ | 1 mg |