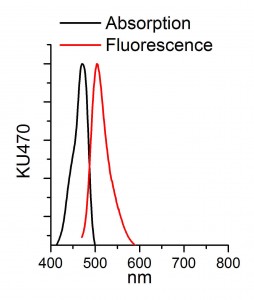 All KU dyes are available as 1 mg and 5 mg dry or in DMSO. Please quote the product number listed below when ordering. Back to catalogue.
KU470 is one of the few high brightness dye in blue. It is available in a range of reactive forms. The nature of the dye removes restraints imposed by kappa in FRET type experiments.
KU470 is ideal as a substitute for fluorescein and the low intensity dyes in the blue.
---
Photophysical properties in methanol

λ(abs)

471

nm

ε(max)

132,000

M -1cm-1

λ(fl)

505

nm

Φ(fl)

>65

%

τ(fl)

~3.6

ns

CF260 = ε(260)/ε(max)

0.24

CF280 = ε(280)/ε(max)

0.06
---
Available derivatives
| | | | | |
| --- | --- | --- | --- | --- |
| Dye | Derivative | Quantity | Product number | Price excl. VAT |
| KU470 | Free Dye | enquire | KU470-1 | 250€ | 1 mg |
| KU470 | Acid | 1 mg | 5 mg | 25 mg | KU470-2 | 250€ | 1 mg |
| KU470 | C18 | enquire | KU470-4 | 250€ | 1 mg |
| KU470 | PEG | enquire | KU470-5 | 250€ | 1 mg |
| KU470 | NHS-Ester | 1 mg | 5 mg | 25 mg | KU470-6 | 250€ | 1 mg |
| KU470 | Haloacetate | enquire | KU470-7 | 250€ | 1 mg |
| KU470 | Maleimide | enquire | KU470-8 | 250€ | 1 mg |
| KU470 | Isocyanide | enquire | KU470-9 | 250€ | 1 mg |